December 2022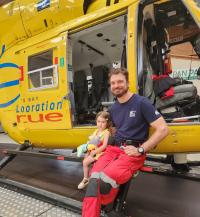 Hi there, my name is Heath, and I am a Critical Care Paramedic here at the Hawkes Bay Rescue Helicopter. 
Christmas is fast approaching, and I am sure that everyone is looking forward to spending a festive time with family and friends.  The crew are looking ahead with a bit of trepidation to what we know will be our busiest time of year with a range of different accidents and medical emergencies that will happen – just like the recent mission that for me, was one of my worst nightmares.   
It involved a very tiny little 2 year old called Maizey who had a severe anaphylactic reaction to a bee sting.  Responding to incidents with children is always hard but adding the extreme anaphylactic reaction in, we know that the situation can deteriorate quickly, and so for me it is a job that I will never forget. 
Nicola and Jason live rurally – 50 minutes from town which is normally a great thing but on the 26th October they had an unexpected reality check that when something goes drastically wrong – they are a very long way from help. 
That day their lives were turned upside down in one of those blink of an eye moments - where suddenly they were looking at potentially losing their precious little 2-year-old daughter Maizey.
It all started on a normal afternoon where little Maizey was playing outside, and Nicola had just finished the lawns.  Maizey suddenly started crying.  It was a different sort of cry to normal, so Nicola immediately went over to see what had happened.   Maizey pointed to her foot and Nicola could see a bee stinger in her foot. She carefully flicked it out and picked Maizey up to take her inside.
In the few moments that it took for them to get in the house; Maizey was covered in hives, her face was swelling, she was struggling to breathe and starting to fall in and out of consciousness. Maizey was having an extreme anaphylactic reaction to the bee sting and her life was now hanging in the balance.
Jason ran down the end of the drive to get cell phone coverage and rang 111 – but they needed Maizey and Nicola there as well so Jason could relay what was happening with Maizey– so Nicola had to run down the drive with her tiny daughter's lifeless body quickly shutting down.
It's a moment she has said she will never forget, and the realisation hit her that they were fighting against time for their daughter's life.
All she remembers now, after that terrifying moment, is that both the Ambulance and the Helicopter arrived. She remembers thinking when she heard the helicopter, that she was so grateful to know that Maizey would have the fastest route back to hospital which would give her the best chance for survival. " I remember feeling so completely helpless, absolutely terrified and couldn't take my eyes off Maizy. It was hard to comprehend how quickly everything happened and I knew that we could lose her" Nicola recalls.
My part of the story comes in now as by the time we arrived, the ambulance crew had given Maizy adrenaline, but it had not helped, so I realised that things were not good.  We desperately tried to get a line into her but with anaphylactic shock, the veins disappear and with a little 2 year old it was impossible to do.
We knew that we had to move quickly and the best place for her was in hospital.  We made the call to continue adrenaline knowing that would see her through the 15 minute flight to the hospital.  She was given the critical care needed when we arrived and then released from hospital the next day.
Today Nicola and her family are just so incredibly grateful to the whole team who helped them that day. Nicola says "as prepared as we can be for the future – we are realistic to know that this may not be our last helicopter flight as we can't stop the bees. However, we will never underestimate the time we need help in and continue to count our blessings that Maizey is with us thanks to the crew and services who helped us that day. "
This mission was an example of exceptional teamwork between everyone involved, which contributed to saving Maizey's life.  Nicola & Jason identified the urgency, the ambulance crew on the scene were brilliant and we are incredibly lucky that we were just about to head off on another mission with a doctor and flight team on board, so we were able to immediately divert to Maizey and were on the scene really quickly.
We all saved Maizey's life that day and were able to be there because of the support you have given us in the past.
We are very appreciative of your ongoing support and are asking for your help again to ensure that we will be available for the emergencies like Maizey's well into the future.
Thank you from all of us here at the HB Rescue Helicopter for everything you do for us and helping us to save lives like Maizey's.
I would like to wish you and your families and friends a wonderful and safe Christmas and New Year from our team.
Please donate today to help us to continue to save lives in Hawkes Bay.

Heath Gillot
Critical Care Paramedic
Helicopter Service