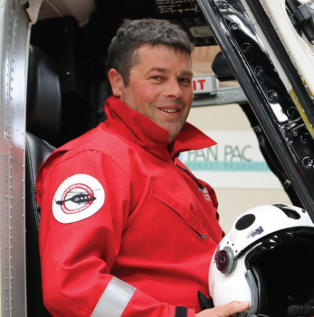 My name is Hamish Ramsay and I am a pilot for the Lowe Corporation Rescue Helicopter Trust. I am sure you have seen us flying over the Hawke's Bay region in our bright yellow helicopter and we may well have helped someone you know.  
You may think that our service is only for rescue missions involving accidents or medical events requiring lifesaving medical attention and an urgent trip to hospital. However, this is not the case. A high number of our missions are inter-hospital transfers transporting critically ill patients to specialised care that will often literally save their lives.
These transfers include bringing dangerously ill patients to Hawke's Bay Hospital from Wairoa, transferring sick and injured children to Starship Hospital in Auckland, as well as transferring patients with heart problems or complicated health issues to specialised medical teams around the country.
We land right on the roof of the hospital where the patient is going to get the critical surgery they need.
You never know when you or someone you love may become dangerously ill and need an urgent inter-hospital transfer by our lifesaving service.
Here are just a few of the hospital transfer missions that I have personally completed…
• Our team was sent to Wellington Hospital for a patient in his 50s who had called an ambulance from his home. St John Paramedics diagnosed that the patient was having a heart attack. He was taken by ambulance drectly to our helicopter pad, where he was loaded and flown to Wellington Hospital and straight into surgery for a stent to be inserted. A heart attack patient has the best chance of survival when the stent is inserted within a few hours after a heart attack, which is why our service is so vital and why the swift transfer saved the life of this patient.
• A young girl was brought into Hawke's Bay hospital after she suffered severe burns from a hot cup of tea falling on her. She was urgently transferred to Hutt Hospital where burns specialists were waiting.
• A male patient was taken to hospital with a serious head injury. The Intensive Care team assessed him and decided that the best care for him was available at Wellington Hospital. Our crew flew the patient to Hospital for further treatment. 
• There was a motor vehicle accident in Mahia. Fire and Emergency were called, and the single occupant was cut out of the car. The local St John Ambulance crew determined that the patient had spinal injuries. They requested our Rescue Service to transport the patient directly to Middlemore Hospital in Auckland, which was the best and closest hospital for his injuries, accompanied by an ICU doctor and Flight Nurse, to the specialist care at Wellington Hospital.
• A patient with a neurological condition was transported from Wairoa Hospital to Hawke's Bay Hospital for further treatment.
• A maternity patient in her 30s was urgently transported to Wellington Hospital for specialist care.
We complete missions like these several times a week. Our Rescue Helicopter service saves people of all ages and all backgrounds. Together with the rest of the crew, I am on call 24 /7, 365 days every year to make sure that if we are needed, we are ready to fly at a moment's notice.
One day it could be you, your parent or child, or another family member who needs our service.
We must fundraise $1.25 million every year to keep our service available for the Hawke's Bay community to save lives and be there for those who urgently need us. To do this, we need support from people in the community like you, who recognise the importance of our service.
Please consider joining our support crew and donate today so we can continue to be there in case you, or someone you love, need us one day.
Thank you for reading this letter and considering our request. I really appreciate it.
Yours sincerely
Hamish Ramsay