September 2022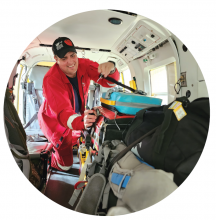 Hi there, my name is Cornelius Venter and I have been a Critical Care Flight Paramedic for the Lowe Corporation Rescue Helicopter for almost 16 months, completed over 150 missions and met a lot of great people along the way.
I am proudly from South Africa and started my career in pre-hospital emergency care 11 years ago. I quickly realised that my passion and area of interest was in critical care patient retrieval and transfer which brought me to working on Rescue Helicopters in the United Arab Emirates Airforce Search and Rescue Centre initially and now in New Zealand.
I love working with the team, we work hard but also have a lot of fun and laughs along the way. We often get called heroes, but I just feel very passionately that this is my job to do what I do, and I see us as being an extremely important link between pre-hospital and in-hospital care. The unique geographical extremes and locations that kiwis enjoy exploring can lead to them needing assistance in difficult locations. In these situations, time and access is what we can provide, we get the medical care needed to a patient swiftly, we assess and stabilise them and then transport them to the most appropriate emergency centre.
I enjoy my job immensely and especially meeting all the different people I have already met in the short time I have been here. I like feeling needed and knowing that my skills can help someone but also really appreciate being a part of the small, experienced crew we have here in the Bay. I feel that they are my 2nd family as I spend so much time with them. I believe it also saves my wife Deidre', as I am a bit of an excessive talker, so she gets a bit of a break when I am at work and my crew have to listen to me! (sorry guys).
When the pager goes off - I know that we have 10 minutes to get off the ground, so I am immediately looking at what equipment we need on the helicopter for the mission we are heading to. I have 5 minutes to decide what we are taking and once we are airborne, we are all focused on getting the patient back to safety as quickly as possible.
For me – I am always looking at what information has been received and what different outcomes there could be. I'm thinking of the plan A, B, C & D so that when we arrive, I can do a quick assessment and then know exactly what the next steps are to get someone where they need to go as quickly as possible.
As a team when we are flying to a mission, we discuss any potential issues around the job or challenges around access and then we tend to just chat to keep focused on the job ahead. I did have a situation a while ago where we were engaged in that mindless chatter but were completely unaware that the radio was on and everyone else on the emergency radio system heard our banter - which I am still being mercilessly teased about.
Although I have been part of several teams during my career, since joining the Lowe Corporation Rescue Helicopter I have quickly realised that as part of this team I not only have the support of the Hawke's Bay Community but of my fellow crew who are extremely experienced and as passionate about saving lives as I am. The support of dual trained aviation/medical crewmen and our highly experienced pilots mean I can concentrate on the medical situation at hand and in most cases return a positive outcome for the patient.
I love being a part of this passionate and professional team and recognise that without everyone in the wider team – that we don't have anything. The contribution of all the people involved from the ambulance, fire service, emergency hospital staff, the community who support us and the team from the rescue helicopter, are all vital in supporting me and allowing me to do my job and help to continue to save lives.
I am deeply grateful to be a small cog in this wheel and to be able to come to work each day to work with this significant support behind me.
You are one of those people as you are one of our regular donors – so please accept my very grateful thanks for your ongoing support.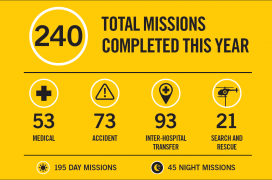 We have completed over 240 missions already this year thanks to the ongoing support from donors like you, but fundraising is an ongoing task for our service. We ask you to consider making a donation with the enclosed form as we need your continued support to keep our service free and available for the Hawke's Bay Community.
Please donate today to help us to continue to save lives in Hawkes Bay.
Thank you so much.
Snowy;Groundhog;Nightowl Cornelius out

Cornelius Venter
Critical Care Paramedic
Helicopter Service
* as at 1 September 2022