Rural Appeal 2022
Our annual Rural Appeal is an important fundraiser for us as a large number of our rescue missions are into rural and isolated areas, just like Bruce and Sally's.

Bruce McGregor lives, "As far away as you can get," in his own words, at the end of Pakaututu Road.  Only around 50% of the farm has cell phone coverage and they are an hour and a half drive from town with a good chunk of that on a metal road.
It was a very routine day when Bruce set out to run some cattle into the yards.  One of them dodged back, so as Bruce had done many times before, he quickly turned the side by side to block it. However this time -  he hit a bump and the machine flicked over. "It all happened so quickly," says Bruce. "One second I was turning after a heifer, next second I been thrown through the roof of the side by side and couldn't move.
"I was lucky as I had phone reception, so was able to call our neighbour 'Carpy' (Aaron Carpenter) who collected me up."
Bruce then called his wife Sally who quickly made her way to where Bruce was.  As he was unable to walk to the car, Sally decided to call 111 and says that there was such big feeling of relief for both of them when the decision was made to activate the Rescue Helicopter.
Sally says, "They were asking where they could land on the farm and I asked who the pilot was hoping that it might be Bill - and it was! That made things a lot simpler. Bill knows exactly where we are, and where he could safely land.  Knowing we had Bill coming made everybody feel a lot better – we've known Bill for years and were happy he knew what he was doing and where he was going".
"It felt like a very short wait before we heard the helicopter come in," says Bruce. "That was my quickest trip to town ever.  The crew took me straight into ED and 20 minutes from pick-up I was being examined by a doctor.  That's pretty good service.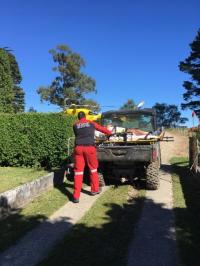 "The crew were all extremely professional and really nice guys and even though I was pretty uncomfortable by then, I really appreciated the banter that we all had, especially with Cornelius the Critical Care Paramedic.
"I felt very relieved once that 111 call was made - we were now in the hands of a highly professional and skilled team, and I had every confidence that I could just relax and let them take over.
"I've called the Rescue Chopper before for neighbour's accidents and watched them head up our way for different things but certainly didn't expect to be needing them that day.  But things happen in the blink of an eye, even on the most routine days, and I'm really grateful that the service was available when I needed them.  We've known Bill since he was at primary school, and have enjoyed watching his career progress, so it was quite special having him as the pilot.
"We have been supporting the Trust for twenty years as a Rural supporter, always thinking our support meant they are there if we ever need them. Then all of a sudden - when we did - they were. It just confirms the importance of donating every year as we all just never know when something might happen. "
I was really honoured to be on the crew that brought Bruce back to hospital and it just reminds me a little more just what we are here for.  The reality for us all is that it can be anyone, at any time, and anywhere, that suddenly needs an urgent trip to hospital, and I am so grateful for the support from people like you that helps us be there when we are needed.
Please make as generous donation as you can to support our 2022 Rural Campaign. Without the support of people like you, we would not be able to keep our helicopter flying to be there for people like Bruce, so please make a donation today if you can.

Bill Hartree
Base Manager & Pilot
Helicopter Service