"You 100% saved my life that day"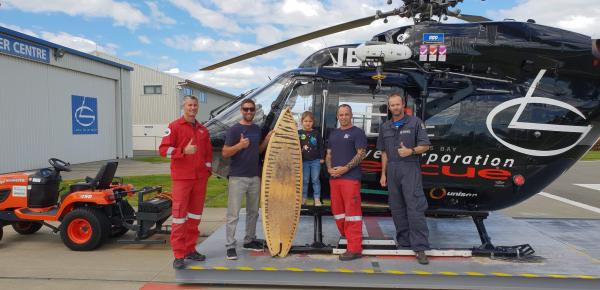 On Sunday the 9th of September, our helicopter was on its way to Wellington for an urgent hospital transfer, and a missing surfer, Shon Turfrey, was exhausted, cold, and struggling to hold onto his surfboard after being in the water for over 6 hours and pulled by a strong current over 10km out to sea.
After the police had identified that Shon had entered the water for an early morning surf, but not been seen again - they knew the situation was grave and they needed an urgent aerial search to try and find Shon before he was swept out too far, and it was too late.
With our regular helicopter on the way to Wellington, they called our off duty Pilot Jeremy Bruce to ask if there was anything they could do. Jeremy was at home, enjoying a day off in the sun with his wife and children, but once the police had explained the situation, he instantly called Shaun, our off- duty crewman who was also at home with his family, and they both agreed to respond to this emergency. They raced into the Rescue Helicopter hangar and thankfully, they had access to a backup helicopter on that day.  
They searched unsuccessfully for some time, systematically flying back and forth over the identified search area slowly heading further and further out to sea. They were at the 10km mark and were just about to turn around to move on to the next section of the search when our crewman Shaun saw a dot in the distance which  looked like a log  - way out of the search area.  
They decided to move out of the search grid and go over and check it out. As they got closer, they realised that it was a person, who at this point was frantically waving to try and get the helicopter crews attention. They quickly radioed the coastguard and hovered above Shon so the boat knew where to go. The coastguard boat came over, pulled Shon out of the water, and took him back to shore to the medical team waiting for him.
We are so pleased to report that Shon has recovered well with no major injuries from the ordeal and he is now able to be there for his beautiful little daughter who would be lost without him.
However Shon knows, that without the eagle eyes of Shaun and the decision that the crew made to go and check out that black dot in the distance, that he simply would not have been found.  The current had taken him way out the area that the search team had anticipated he would head and he was moving so swiftly that he knew he was running out of time and hope.
This is one of the many examples where our pilots and crew go way above and beyond what their job is for the Hawke's Bay Community, and no doubt there will be many other occasions showing this selfless commitment to saving lives in the summer months to come.
We are heading into our busiest time where it will cost over $800,000 on rescue missions over the next three months.  
None of us know when we may need the Rescue helicopter and anytime it could be you, your family or friends who we help.
Please consider donating as generously as you can today, to help keep our Rescue Helicopter flying. You can donate here.
Don't forget to send the crew a message for this busy Summer season - you can do so here.