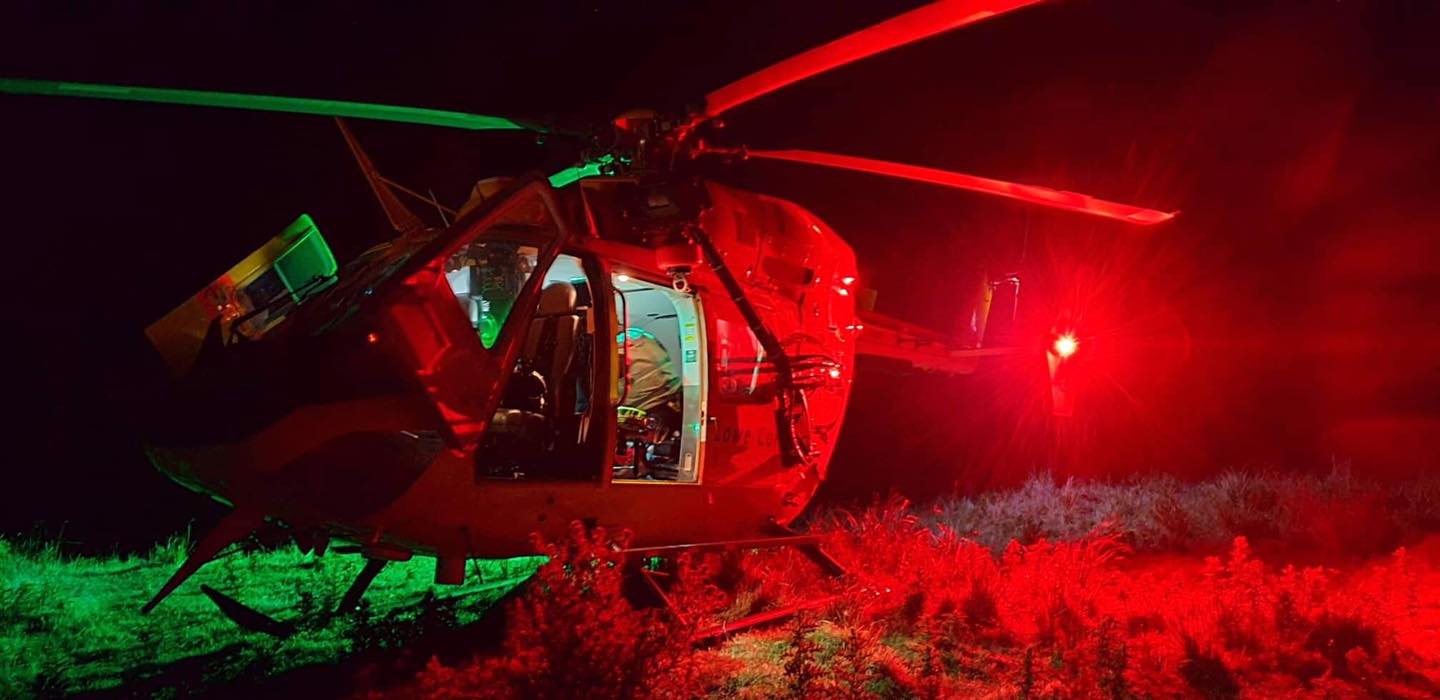 My name is Hamish Ramsay and I am a pilot for the Lowe Corporation Rescue Helicopter Service. On the 14th of June, we were called to a critical and difficult mission that without the skills of our highly experienced crew, could have had a very different ending.  
It had been a beautiful Sunday in Hawke's Bay. The sun was just about to set, and it was starting to get quite chilly when we received a page from the Search and Rescue team.
A tramper had been enjoying a walk in the bush near Waipatiki Beach and had got lost. She had been attempting to find her way out for a few hours before she realised there was no way she would get out on her own. She luckily found cell phone reception and called the police who told her to stay put.
We were paged at 4.48pm and had loaded the helicopter, pushed it out of the hangar, inputted our coordinates and taken off within 8 minutes. This is where our new helmets really helped. Thanks to our community and some very generous donors, our entire crew now have the best helmets available, which makes our job a whole lot safer and easier. Due to the technology in these helmets, the police officer in charge, Wayne Steed, was able to speak on the phone to the lost tramper throughout the flight.
We arrived at the coordinates we were given and by this time, it was dark. The area the tramper was in was very dense. The trees were swaying in the wind and hiding any chance of us spotting her.  When we realised how difficult it was going to be, Wayne had a great idea and asked the tramper to shine the torch on her phone up into the air.
We continued searching and finally spotted her from the torch on her phone in the middle of some very tall and dense trees. We found a clearing close to her and winched down our Intensive Care Paramedic to go back to the area we had located her, and bring her to the clearing, before winching them both back into the helicopter. Our ICP then checked her medically, and thankfully found nothing wrong with her.
This mission was all down to timing and the quick thinking of our crew. If we hadn't been able to locate her when we did, or she hadn't found reception to call 111, she could have died from hypothermia overnight. I'm so pleased we were able to help her before anything serious happened to her.
This highlights the importance of an incredibly well-trained crew, the right equipment, and the ability to stay calm in these stressful situations.
I was so proud of our team for ensuring this person got the best possible care and made sure she did not get stuck out there on her own, with no supplies, overnight.