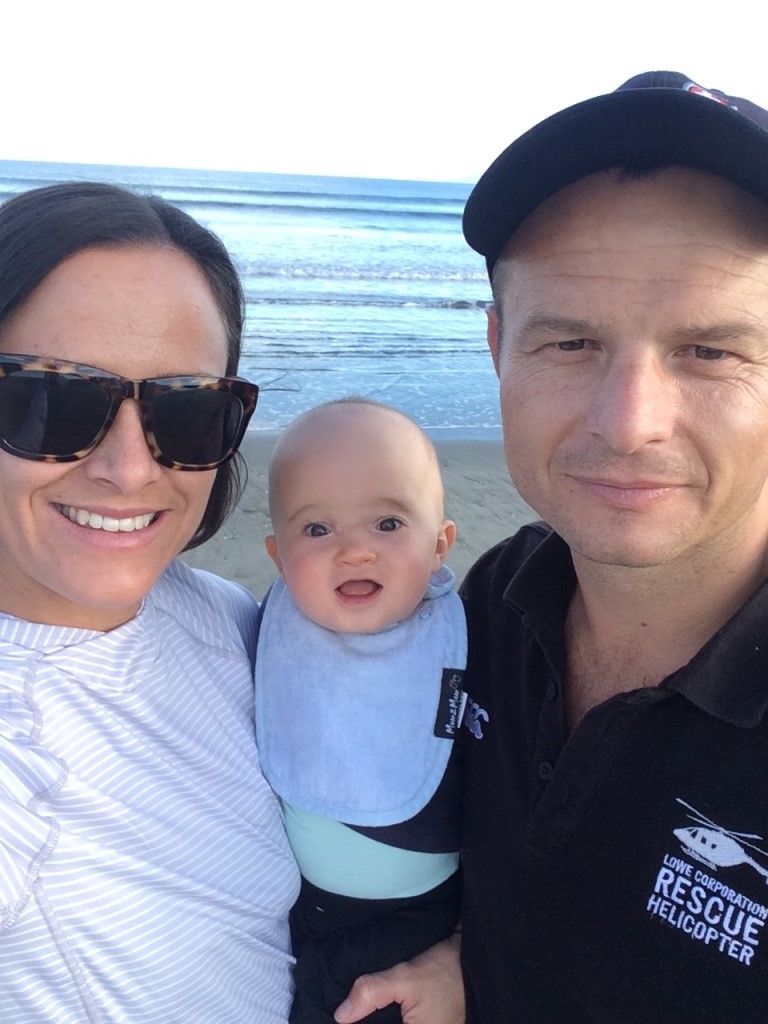 Charlie had just marked 15 years in the air force when the opportunity to work as the Chief Pilot at the Lowe Corporation Rescue Helicopter came up. We were engaged to be married, and had only recently purchased our first home in Palmerston North. Suffice to say, we hadn't actively been looking for a change and life was quite busy – but Charlie certainly was yearning for a new challenge deep down, and I had always had moving back to the Bay in my long term sights.
I had had no exposure whatsoever to a rescue helicopter operation, but it didn't take long to realise it's an exciting world to be a part of. I don't think I am the only one that partly lives through Charlie and his lifesaving missions. My work stories certainly don't come close to matching his. It's wonderful to hear that someone's life has been saved, that someone's loved one has lived to tell the tale, all thanks to the team onboard the chopper – especially when your husband is an integral part of that team!
As a family, of course it can be frustrating that Charlie doesn't get every weekend off, that we can't just take big stints of annual leave, and that when he is on the roster, he is on call 24/7 over Christmas and/or New Year each year, but there are aspects of the job that also make it more conducive to family time, and being around lots. The reality is – any emergency service role is going to involve nontraditional work hours, and I always try to remind myself that if he was a hot shot in the corporate world, Archie and I would probably see him far less than we do now.
There have been times where I have been basically counting the minutes till he gets home, especially after a long tiring day with a new baby, and then I have receive a call from him to say "sorry, I have an emergency hospital transfer to Wellington", which can take the best part of four hours. That's hard, and I've certainly had to adapt, and learn to just get on with it! In contrast to that though, more often than not, Charlie is home in time to bath and play with Archie, which in today's world is probably not something many Dads are able to do.
Charlie and Jeremy are the only two full-time pilots on the Hawke's Bay Rescue Helicopter, so that does mean they carry a big load, but in some ways it also makes rostering around special occasions easier. They both have such a good relationship that they can work together and help each other out when required, and often take turns having various public holidays with their families.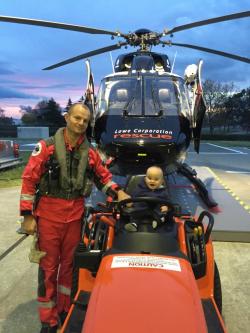 People ask if I worry about Charlie's job, and of course I do a little, especially when he is flying at night – very often when he does I find it hard to get back to sleep until he is home. We have a rule that he always lets me know when and where he is going, and if I ever worry that he has been gone for quite some time, I can see via the tracking function on the website whether he is on the ground at a job site or flying, which is really reassuring.
Also, I take comfort in knowing he is an incredibly careful and conscientious pilot, and has been flying planes and helicopters from the ripe age of about 18! I know he would never ever get airborne if he wasn't 100% comfortable with the weather, and he would land the helicopter as soon as humanly possible if things ever deteriorated midflight. There have been occasions where he has actually slept on the floor at a hangar in Wellington, because the weather held off long enough for him to get a critically ill patient to Wellington hospital, but was not suitable to fly home the same night. He was born to fly and there is a reason for that – he's incredibly good at it, and his passion for it is unwavering!
I admire the high standard he maintains in all facets of his role – not just the flying side of things, but the people management and coordination with various other people to keep the helicopter in top working order. He never turns down a request to go and speak at a function on behalf of the rescue helicopter and he makes sure he always acknowledges and applauds the volunteer members of the organization, at any opportunity – which I think is important.
Charlie is an excellent Pilot, and I have no qualms in stating that the people of Hawke's Bay are lucky to have him standing by to help in their time of need. 'Work talk' aside, he is just your everyday bloke doing a pretty cool job, and to Archie and I – he is a devoted Husband and Father.
Sarah is married to the Rescue Helicopter Chief Pilot, Charlie Beetham. They live in Hastings with their son Archie, who is 1 years old.