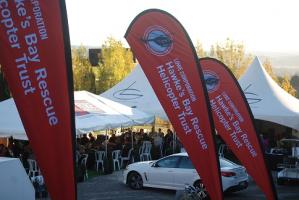 The Lowe Corporation Rescue Helicopter Golf Tournament, took place on Friday 29 April 2016 at the Hill Country Estate, Havelock North.
The event, which was rescheduled due to high winds and rain on the original date back in March, was a great success, with 20 teams from local businesses competing for the coveted Golf Tournament Trophy. 
This year's winners were event newcomers First New Zealand Capital, with The Grizzlies in second place, and the Pakline team in third.  
Attendees enjoyed wine sponsored by Ka Tahi Wines, an all day BBQ hosted by ANZ, entertainment by local musician Eilish Rose, and a wonderful dinner from Paella A Go Go. 
The evening auction raised over $3,500, and we'd like to thank the following organisations for donating prizes: Three Doors Up, Country Garden Florists, Ormlie Lodge, ANZ, Silky Oak Chocolate Factory, Bakers Delight, Ka Tahi Wines, Farmlands, and Hooters Vintage & Classive Vehicle Hire  
Laura Hyde, Marketing and Fundraising Manager at the Trust said, "We were delighted with this years event, and want to thank everyone who took part. We have raised over $10k from the event which will go a long way to helping us keep our life saving services free of charge and available 24/7 to everyone in Hawke's Bay!"
"We'd also like to take this opportunity to also thank all of our volunteers who helped to make the day a success, Brian Doyle for co-ordinating the competition and, of course, Lowe Corporation, who sponsored the event" 
2016 Team Leader Board
First:  First New Zealand Capital - 62 points 
Second: The Grizzlies - 57 points
Third: Pakline - 56 points
Fourth (joint): Hastings Fire Service - 53 points / Westpac - 53 points
Fifth (joint): The Clearance Shed (Team 2) - 50 points / Napier Port - 50 points / ANZ - 50 points
Sixth (joint): The Swingers - 49 points / Unison Contracting Services - 49 points
Seventh (joint): Team Falk - 47 points / Crombie Lockwood - 47 points / The Magpies - 47 points
Eighth: Team PGW - 46 points
Ninth (joint): Sothebys - 43 points / The Nerds - 43 points / Lowe Corporation - 43 points
Tenth: Logan Stone - 42 point
Eleventh: Stratans - 37 points
Twelfth: The Clearance Shed (Team 1) - 35 points
If you are interested in joining the Golf Tournament in 2017 contact Laura at mfm@hbhrt.org.nz