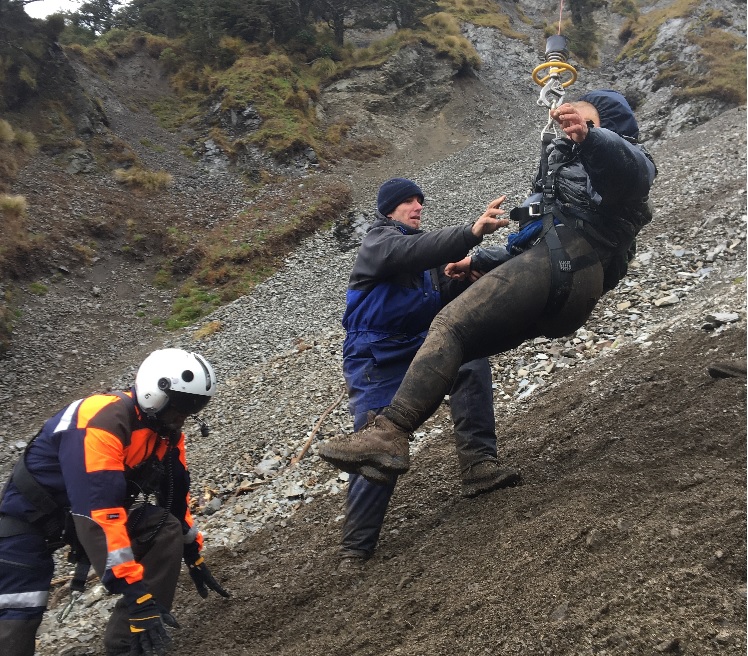 The Hawke's Bay Rescue Helicopter Trust, LandSAR Hawke's Bay and NZ Police Search and Rescue have been recognised as 'read-life heroes', receiving a Certificate of Achievement at the New Zealand Search and Rescue (NZSAR) Council Awards. 
The honour, presented at Parliament last night, was for their efforts rescuing two trampers caught in deteriorating weather in the Ruahine Ranges on October 5 2016. 
Experienced trampers from Tolga Bay, Clive Cresswell, 59, and his wife Marie, a 53-year-old nurse at Te Puia Springs Hospital, had found themselves in urgent need of local rescue services while on a tramp in the Ruahine Ranges.
While walking along a ridge at 1500m altitude, the pair were suddenly exposed to bitterly cold weather conditions as freezing mist and violent hailstones closed in. At 2pm, with Marie showing signs of hyperthermia, they activated their Personal Locator Beacon (PLB), and waited for help to arrive. 
The national search and rescue co-ordination centre, based in Wellington picked up their PLB signal, and the Rescue Helicopter – Piloted by Charlie Beetham along with Volunteer Crewman Brett Howe - was responded to their location to recover them. But with high winds and low cloud affecting visibility, the crew were unable to reach the Cresswell's. A ground team was then dispatched from Hawkes Bay Search and Rescue, and managed to locate the stranded couple at 3am.
Later that morning, the group tried to walk out of the ranges, but the terrain proved impossible to traverse and the helicopter was called again to fly the Cresswell's back to their vehicle.
"The survival of the two trampers would have been significantly compromised without the professional skills, teamwork, perserverence and courage of the rescue team" the Council said. 
"When the attempt to walk to safer ground was no longer an option, the skill and courage of the helicopter crew in challenging flying conditions facilitated a safe recovery"
Searching for, and rescuing people is a complex, often difficult task that occurs in all kinds of weather and usually in demanding locations. The people who work or volunteer their time and skills in this area, and those that support them, often receive little public recognition for the feats they achieve and the sustained effort they put in to accomplish these tasks.
In recognition of this, the New Zealand Search and Rescue (NZSAR) Council established an annual national award programme to acknowledge worthy achievements in the field of search and rescue in the New Zealand Search and Rescue Region.
Pilot Charlie Beetham, along with Volunteer Crewman Brett Howe, accepted the award at the formal awards ceremony on Wednesday 10th May.
"We are amazed and humbled to be accepting this award along with our colleagues in the Police and Land SAR, because to us, we were just doing our job" Charlie said.